Complete Guide To Dating & Romance (SoS: FoMT)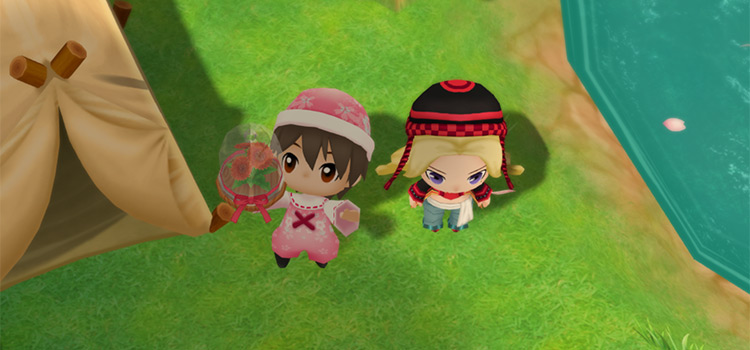 In Story of Seasons: Friends of Mineral Town, you can choose a boyfriend/girlfriend from any of the 16 marriage candidates available in the game. It's even possible to date multiple people at a time, or become romance rivals with other characters if your relationships clash!
Marriage in this game is pretty straightforward: you can get married to one person only, have one child, and never get divorced.
However, you can have as much fun as you like while you're just dating.
In this guide you'll learn how to date villagers (including how to date multiple villagers!) and how to woo all your possible lovers in Mineral Town.
How To Date (Quick Guide)
The dating system in SoS: FoMT is quite relaxed:
As long as you have enough Love Points (LP) with a character, you can date them.
You can even be in a relationship with multiple people at once, as long as you're not married yet.
Normal Marriage Candidates
To date a normal marriage candidate, first you have to get their Love Points or heart levels up. Before you can even ask someone out romantically, you'll need to have at least 30,000 LP (a green heart) with them.
Love Points can easily be earned by giving NPCs gifts, interacting with them, and participating in their heart events.
Once you've reached a blue heart with any candidate, a special event will be unlocked where you're tasked to search for the Sunsweet Flower. This is a special type of flower that grows in Mineral Town and can be processed into a Preserved Flower.
The Preserved Flower is sold in Jeff's shop for 1,000 G after the completion of the Sunsweet Flower quest.
Offering the Preserved Flower to anyone with a green heart will prompt the "dating" heart event. This will mark the official start of your romantic relationship.
You can continue to raise your Love Points until you earn a red heart (or 60,000 LP).
Both you and your significant other will be ready for marriage at that point, and you can purchase a Blue Feather to propose marriage. But you don't have to propose right away if you're not ready yet.
However, you'll still need to give them constant attention to maintain your relationship level.
Friendship decay happens if you don't talk to them daily (-200 LP), or if you give them a disliked or hated gift (-800 LP) or if you choose the wrong option in a heart event (-2,000 LP).
So don't let your hard work go to waste!
Special Marriage Candidates
Dating a special marriage candidate is an extra challenge in SoS: FoMT.
You'll find 4 special potential marriage candidates in this game, which are:
Bon Vivant
Huang
Kappa
The Harvest Goddess
But marrying one of these NPCs does not involve dating them.
Because typically these characters:
Are rarely in Mineral Town
Don't spend time with you or with the other villagers
And they don't even move in with you after getting married
There's not even a "dating" phase or courting system for these candidates. You just have to complete a specific set of tasks to unlock their hands in marriage.
There are no heart events to participate in with special marriage candidates, and there's no need to offer them a Preserved Flower as well.
Basically, you don't even have to actively court these people.
To date a special marriage candidate, you just have to work towards completing their marriage requirements – which we'll cover in detail in the next section.
All Dateable NPCs
1. Brandon
Brandon is Gotts' apprentice who lives in the workshop with him.
He's edgy, moody, and generally prefers to be alone. His birthday is on Autumn 7th.
You can often find Brandon watching the waters of the lake in Mother's Hill, or walking along the forest if he's not inside the workshop. He loves Matsutake, Dorayaki, Apples, Oranges, and Yams.
2. Cliff
Cliff is a traveler that's looking for work in Mineral Town.
Through his heart events you'll get to learn a lot about him and his situation – and eventually you'll need to help him decide to stay where his heart belongs.
Cliff's birthday is on Summer 6th, and he likes to receive rice dishes such as Curry Rice, Bamboo Rice, Fried Rice, or Mushroom Rice. He usually stays inside the Church on most days and later on spends a lot of time at Adge Winery where he works.
3. Doctor
Doctor owns the only clinic/hospital in Mineral Town.
He loves his job and can come off as a serious workaholic. But he eventually reveals a softer side. His birthday is on Autumn 19th.
To get on Doctor's good side, you can give him a jug of Milk or any type of colored wild grass. He also appreciates healthy forageables like Bamboo Shoots, Honey, or fruits.
4. Elly
Elly works alongside Doctor at the Clinic and spends most of her free time taking care of her grandmother, Ellen. Her birthday is on Spring 16th.
Elly loves to receive flowers in any season, and her favorite desserts are Almond Tofu and Moon Dumplings. If she's not working at the Clinic, she mostly stays at home or visits the General Store for errands.
5. Gray
Gray is an apprentice at the Forge for his grandfather, Saibara.
He's often working on various metalworking projects and takes a lot of pride in his work. His birthday is on Winter 6th.
If you have a lot of spare ore or minerals from the mines, you can gift some of them to Gray.
He loves to receive jewels and Copper/Silver/Gold ore. Alternatively, if you're more of a homebody, Gray's favorite dish is Roasted Corn.
6. Jennifer
Jennifer is a nature lover who loves to be close to the forests and hills of Mineral Town. She's often at her tent beside Mother's Lake but stays permanently as a resident of Dudley's Inn. Her birthday is on Winter 2nd.
Jennifer loves Chestnut dishes like Chestnut Rice, Mont Blanc, and Roasted Chestnuts. She also has a sweet tooth for Chocolate and loves to receive fresh flowers and crops.
7. Kai
Kai is only in Mineral Beach during the summers, but that doesn't mean you can't spend quality time with him.
He spends most of his time at his beach cafe. His birthday is on Summer 22nd.
Kai's favorite item in the world is Pineapples, so you have plenty of time to grow one in the Summer before his birthday. He also likes receiving Summer crops such as Corn, Onions, Pumpkins, and Tomatoes.
8. Karen
Karen takes care of the General Store with her parents, Jeff and Sasha. She has an adventurous and outgoing attitude. Her birthday is on Autumn 15th.
To get on Karen's good side, you can give her some of her favorite snacks like French Fries or Popcorn. She also loves Cheese, Sashimi, and Bamboo Shoots.
9. Marie
Marie is the caretaker of Mineral Town's library. She spends most of the week there, but in her free time, she visits the lake on Mother's Hill or stays with her parents, Basil and Anna.
Marie loves Relax Tea, Caffeine, Chocolate, and Wild Grapes. Her birthday is on Winter 20th.
10. Popuri
Popuri is the town's resident bubbly girl.
She works at her family's ranch, PoPoultry, with her brother Rick and often spends her days wandering the beach and Mineral Town. Her birthday is on Summer 3rd.
Popuri loves to receive Eggs, Omelet Rice, and Tamagoyaki. You can also give her jewelry commissioned from the Forge, such as a nice Bracelet or Earrings.
11. Ran
Ran often helps out at the Inn which is owned by her dad, Dudley. Her birthday is on Summer 17th.
Ran loves food, so any dish is basically a great choice when giving gifts. Her favorite recipes are Cake, Cheese Fondue, Matsutake Rice, and Pancakes.
12. Rick
Rick is Popuri's older brother and is often very protective of her. They work together with their mom, Lillia, at PoPoultry Ranch. His birthday is on Autumn 27th.
Rick's favorite thing is Hot Spring Eggs. He also likes to receive Honey, Corn, Eggs, and Mayonnaise.
13. Bon Vivant
Bon Vivant is only in Mineral Town once a year.
He's the food critic who judges the Cooking Exhibition on Spring 22nd, during the festival. His birthday is on Spring 21st.
The easiest gifts to get Bon Vivant are Elly Grass, Hot Spring Egg, Butter, and Roasted Corn. He will generally like any cooked dish that you give him, though!
But to get married to Bon Vivant, you'll need to complete the following requirements:
60,000 LP or more
Upgraded house with the Big Bed
Win the Cooking Exhibition 5 times
Complete the Gourmet Achievement (cook all 120 recipes)
14. Harvest Goddess
The Harvest Goddess is probably your best friend in this game, as she gives you plenty of rewards and in-game achievements in exchange for daily offerings.
But it's also possible to marry her.
Her birthday is on Spring 8th, and she loves to receive flowers, crops, Eggs, or Milk.
To get married to the Harvest Goddess you'll need the following achievements:
60,000 LP or more
Upgraded house with the Big Bed
Confession (after 20 gifts)
Reach Year 5 or later
Ship all items
Master Angler Achievement (catch all fish)
Find every item in the Spring and Lake Mines
Carter's blessing (via confession)
15. Kappa
Kappa is the Harvest Goddess' equivalent who lives in Mother's Lake.
To get him to appear, throw a Cucumber (the only item he likes) into the lake the same way you would offer a gift.
His birthday is on Spring 8th and he will only accept Cucumbers. Any other item is regarded as a disliked or hated gift.
To get married to Kappa, you'll need the following achievements:
60,000 LP or more
Upgraded house with the Big Bed
Confession (after 20 gifts to the Harvest Goddess)
Reach Year 5 or later
Ship all items
Master Angler Achievement (catch all fish)
Find every item in the Spring and Lake Mines
Carter's blessing (via confession)
Get the Kappa Treasure and Kappa Jewels
16. Huang
Huang is just a normal resident of Mineral Town, who runs his business inside Zack's house on the beach. It's not obvious at first that he's an option for marriage and it can be difficult to gain his affection.
Huang's birthday is on Winter 19th and he loves to receive gems, jewelry, and expensive/rare items.
These are Huang's marriage requirements:
60,000 LP or more
Upgraded house with the Big Bed
Buy the Flower Vase (can only be bought until Spring Year 2)
Participate in all 3 Shopkeeper Events
Romance Rivals
In the original Harvest Moon series, rival marriages were common occurrences in most games.
You would spend your entire game romancing a character, only to have them stolen from you at the last minute and your marriage proposal rejected – adding a whole layer of suspense and pressure to your gameplay.
Sadly, rival marriages are no longer a thing in the Story of Seasons remakes.
So you can just choose any candidate you want and take your sweet time without having to worry about other NPCs stealing them from you.
However, there are some hints in the characters' dialogues and interactions that reference the original Harvest Moon: Friends of Mineral Town rival marriages.
Pay attention and you may notice some chemistry between these villagers:
Cliff & Ran
Doctor & Elly
Gray & Marie
Kai & Popuri
Rick & Karen
There's no need to worry through, because no one will disturb your happy relationship as long as you're playing the Story of Seasons remake.
You may pick up on some bitterness and drama from one of the rivals, though.
Dating Multiple People in Mineral Town
There's a special achievement you can unlock in the late-game called "I Choose You". This happens when you've successfully given a Preserved Flower to all 12 normal marriage candidates before you get married – so you're technically dating all of them at once.
Multi-dating polygamy is doable in Friends of Mineral Town as long as you're still just dating all of them (ie. not married yet). So you can do this with as many candidates as you want!
Note: The "I Choose You" achievement will only appear after you multi-date all 12 NPCs and then eventually marry one of them. So eventually getting married is a requirement to get the achievement.
Guide Navigation