How To Max Beauty Fast in Pokémon ORAS
The quickest way to max out a Pokémon's Beauty is by feeding it Blue Pokéblocks. These can be made quickly by using the Pokéblock Kit to mix only blue-colored berries together (no other colors). You can also raise all contest condition stats (including Beauty) by feeding your Pokémon Rainbow Pokéblocks, which can be made by mixing berries of various colors.
Maxing out a Pokémon's Beauty will make it easier for that Pokémon to win Beauty Pokémon Contests. Also, if you max out a Feebas' Beauty, it will evolve into Milotic the next time it levels up.
Maxing Out Beauty
The five Pokémon Contest condition stats are as follows:
Coolness
Beauty
Cuteness
Cleverness
Toughness
There is a different Pokémon Contest category for each of the five conditions. In a Beauty Pokémon Contest, your Pokémon will be judged by how high your Pokémon's Beauty stat is.
Each condition stat ranges from 0 to 255, which can only be improved by giving your Pokémon different types of Pokéblocks. Only Blue and Rainbow Pokéblocks can raise a Pokémon's Beauty stat.
There is no limit to how many Pokéblocks a Pokémon can eat, so you can feed it as much as it needs to max out its Beauty or any other Contest condition stat.
Making Blue & Rainbow Pokéblocks
If you want to make Blue Pokéblocks to max out your Pokémon's Beauty, gather as much as you can of the following berries:
Apicot Berry
Belue Berry
Bluk Berry
Chesto Berry
Coba Berry
Cornn Berry
Ganlon Berry
Kelpsy Berry
Oran Berry
Pamtre Berry
Passho Berry
Rowap Berry
Wiki Berry
Yache Berry
And here's how you'll actually make the Pokéblocks yourself:
Step 1: Under Key Items, use the Pokéblock Kit.
Step 2: Click "Make" and filter your blue-colored berries with the option next to it.
Step 3: Choose the 2-4 blue-colored berries you'll blend and click "Start Blending!"
Step 4: You'll receive Blue Pokéblocks, which can sometimes turn to Pokéblock+ if you're lucky.
Step 5: You can also mix four different colored berries to create Rainbow Pokéblocks, which enhance all of the contest condition stats.
What Does Max Beauty Do?
A high Beauty stat makes it easier for you to win Beauty Pokémon Contests.
Winning contests earns you Ribbons, which are special awards tied to your Pokémon that are kept permanently, even across generations.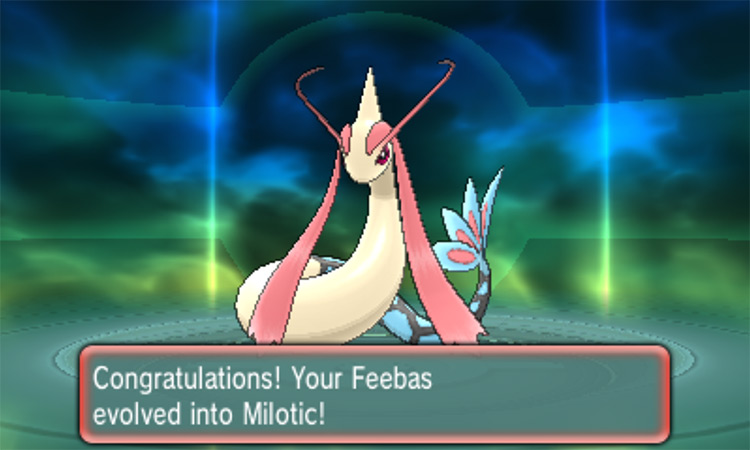 And like in the original Ruby & Sapphire, Feebas has a unique method for evolution. If you max out a Feebas' Beauty it will evolve into Milotic when you level it up.
Feebas can also evolve into Milotic when traded while holding a Prism Scale. However, this method requires a trade partner with Pokémon X or Y.
Guide Navigation