Pokémon Platinum Vs. Recorder: Location + How To Use It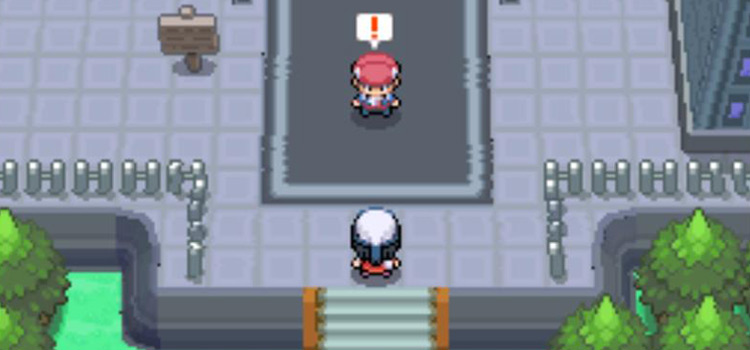 You receive the Vs. Recorder from Officer Looker during your first visit to Jubilife City, shortly after running into Professor Rowan's assistant at the south entrance.
This happens toward the beginning of the game and cannot be avoided.
Acquiring the Vs. Recorder
After obtaining the Pokédex and learning how to catch Pokémon, your next destination is Jubilife City.
When you first arrive in the city, Professor Rowan's assistant (Lucas or Dawn, depending on which character you chose in the beginning of the game) will greet you at Jubilife's southern entrance.
Rowan's assistant will offer to show you to the Trainers' School in the middle of town as a way of helping you learn the basics of Pokémon battling.
But as you both walk down the street, you'll notice a strange man sneaking around behind some lampposts.
The man will emerge from his hiding spot and introduce himself as Looker with the International Police. He'll explain that he's on the lookout for shady characters stealing Pokémon in the Sinnoh region.
To prove that he isn't a shady character himself, Looker will then give you a Vs. Recorder at no cost.
Vs. Recorder Details and Uses
The Vs. Recorder is a Key Item that is primarily used for saving and sharing videos of certain types of battles:
Battles that take place at the Battle Frontier
PvP battles, both over wifi and local wireless connections
But this is an oversimplification.
The Vs. Recorder has a plethora of features, many of which are easy to overlook if you aren't doing a lot of in-depth exploring within the game.
Each of the Vs. Recorder's features falls under one of two modes:
Browse Mode is everything that can be done offline
Global Mode requires a Wi-Fi connection and can only be accessed at the Global Terminal in Jubilife City
Note: The Global Terminal was hosted through the official Nintendo Wi-Fi Connection service (used by the NIntendo DS and Wii consoles), which was shut down on May 20, 2014. But online play is still possible today—both on Nintendo DS/3DS consoles and through emulators—thanks to fan-maintained servers.
Vs. Recorder – Browse Mode (Offline)
Using the Vs. Recorder from the Bag opens it in Browse Mode, which is a type of personal menu.
Browse Mode allows you to watch any Battle Videos you've saved and check the progress you've made in the Battle Frontier.
You can change the color of Browse Mode's menus by tapping the left or right border on the touch screen.
There are two options in Browse Mode:
Battle Videos
Frontier Record
Battle Videos
The Battle Videos menu lets you watch videos you've saved: both ones you recorded and those you've saved from other players (see "Global Mode" below).
The Battle Videos menu contains the following options:
My Video
Other Videos
Delete Videos
My Video
You can only have one of your own Battle Videos saved to the Vs. Recorder at a time, so selecting My Video will bring you straight to the current one you have saved.
This will take you to a screen showing all the details for your video:
Where the featured battle takes place
The type and rules of the battle
The Pokémon on both teams
The number of the winning streak (if it's a Battle Frontier battle)
The video number (for sharing online)
Note: You can only record videos at the Battle Frontier or against other players via local or WiFi connections.
Other Videos
You can save up to three Battle Videos recorded by other trainers, which you will find in the Other Videos menu.
Although you need to connect to another trainer to save their video initially, you'll be able to watch it whenever you want after that.
Delete Videos
This is how you clear any Battle Video from your Vs. Recorder.
Frontier Record
The Frontier Record option is unlocked during your first visit to the Battle Frontier.
This mode actually has nothing to do with recording videos, but rather it displays information about your Battle Frontier progress. Here's what it tracks:
The silver and gold commemorative prints you've obtained by performing well in the Frontier's battle facilities
Your current total of Battle Points (BP)
Vs. Recorder – Global Mode (Online)
Global Mode is where you can share your Battle Videos, Contest dress-up photos, and more with players all across the world.
Global Mode is only accessed at the Global Terminal in Jubilife City, which is directly west of the Pokémon Center.
There are three colored rooms inside the Global Terminal, each located on a different floor:
Ground floor: Blue Room
Second Floor: Green Room
Top Floor: Pink Room
Each room contains computer terminals that have different purposes.
The Blue Room—Rankings
The blue room is the "lobby" of Jubilife City's Global Terminal. It has two terminals to be used with the Vs. Recorder, both dealing with global rankings.
Battle Video Rankings (Top Terminal)
The top terminal of the Blue Room contains a list of all the world's highest-ranked videos recorded by the Vs. Recorder. These videos are separated into two categories:
Colosseum: Recorded videos of PvP battles
Battle Frontier: Recorded videos of Battle Frontier battles (only available after unlocking the Battle Frontier in the main game)
Simply scroll through the videos and select View Battle Video when you see one you want to watch.
Many of these videos are popular because they show expert maneuvers and tough battle situations, and viewing them can offer helpful insight into developing your own battle strategies.
Trainer Rankings (Bottom Terminal)
It might sound like the Trainer Rankings section would be a list of the world's most victorious players in battle, but the reality is a little stranger than that.
Instead, these lists rank players based on the following criteria:
Number of matches won against the Rival and Gym Leaders at the Battleground
Number of jackpots won at the Veilstone Game Corner slot machines
Number of battles tied over the Nintendo WFC
Number of Star Pieces traded at the Fuego Ironworks
Number of Spheres buried in the Underground
Weirder still, the Trainer Rankings don't show the rankings of individual players, but rather those of arbitrary groups the players are part of:
Which type of NPC the players have chosen to represent their characters as (Biker, Ace Trainer, etc.)
Which Pokémon is the players' favorite
The players' birth month
These different rankings can be cycled through using the touch screen.
Of all the Vs. Recorder features, this is probably the least-used one.
The Green Room—Exhibitions
The Green Room makes up the second floor of the Global Terminal. You can access it by stepping on the green warp panel.
This room has less to do with competition and is more intended to be a place for showing off various collections.
Pokémon Box Display (Top Terminal)
As you progress in the game, you will undoubtedly accumulate rare Pokémon: shinies, legendaries, etc.
The Green Room's top terminal is how you can show your Pokémon collection off to other players as well as examine theirs.
There are two options at the top terminal:
View Box Data: Allows you to browse Pokémon Box data other players have chosen to upload
Send Box Data: Lets you upload data from a Pokémon Box of your own
Viewing Box Data
Select the View Box Data option to pull up a list of categories:
Favorite
Cool
Cute
Suggested
Fun
Select
Choose a category and you'll get a list of Pokémon Boxes players have uploaded, starting with the most recent.
From here, you can look through the Pokémon in other players' boxes.
Note that this is all strictly for show—you can't request trades from this terminal. But you can check out the uploaders' profiles from this menu.
Sending Box Data
Selecting Send Box Data will let you choose one of your own Pokémon Boxes to display to the world.
After choosing a Box to upload, you will be prompted to label it as one of the six Box categories. It will then be posted to the top of the list for the specified category.
Note that your profile will also be visible from the Box Data terminal when you post a Box.
Dress-Up Photos (Bottom Terminal)
Once you get the Fashion Case and are able to collect Backdrops and Accessories, you'll be able to dress your Pokémon up on the second floor of the Jubilife TV station and save photos of them.
The bottom terminal of the Blue Room accesses a database of trainers' dressed-up Pokémon photos from all over the world.
There are two options at this terminal:
View Photos: Lets you view other players' Pokémon photos
Send Photo: Allows you to post your own Pokémon Photo for others to view
Viewing Photos
Selecting View Photos will let you sift through Pokémon fashion photos other players have taken.
In this terminal, the photos are organized by Pokémon species.
Selecting a species will let you cycle through every photo currently uploaded for that Pokémon.
You can also read the uploaders' profiles in this mode.
Sending Photos
Pokémon Platinum only allows you to have one of your own photos saved at a time. So the Send Photo section is very straightforward.
When you choose Send Photo, your one photo will be displayed and you can either choose to upload the photo or cancel the transfer.
When you upload your photo, other players will be able to view both the photo and your profile.
The Pink Room—Battle Videos
The Pink Room makes up the Global Terminal's third floor. This is where you can share Battle Videos online with players worldwide.
Battle Video Sharing
The only terminal in the Pink Room allows you to upload your Battle Video to the global network, as well as view and save Battle Videos recorded by other players.
The Pink Room's terminal has two options in its menu:
View Battle Videos: Lets you browse and watch Battle Videos uploaded by other players
Send Battle Video: Lets you upload your own Battle Video to the global server
Viewing Battle Videos
Select View Battle Videos to watch others' recorded battles. You can sort other players' videos by the following categories:
Newest 30: Displays the thirty most recent Battle Videos uploaded
Search: Allows you to search by Facility (either the Colosseum or a specific Battle Frontier facility), Pokémon species, or trainer Location
Video No: Lets you input an exact video number (useful for posting in online communities)
Whichever option you choose, you'll be presented with a list of Battle Videos showing the player's names and the Pokémon on their teams.
Scroll up and down using the touch screen and tap View Battle Video when you find one you want to watch.
The next screen will have more information on the battle:
The Pokémon on both sides of the battle
The battle type (single, double)
The restrictions imposed on the battle
The video number
You'll also be able to view the uploader's trainer profile from this screen, as well as save the video to your own Vs. Recorder (if it strikes you as rewatchable).
This feature is especially helpful if you're trying to develop strategies for or against certain Pokémon, or if you want to see how other players got through a Battle Frontier facility you're having issues with.
Sending a Battle Video
You can only have one of your own Battle Videos saved at a time.
Therefore, sharing a video is nearly effortless: Just tap on Send Battle Video and hit Yes on the next screen.
You can verify that your video was uploaded by checking the Newest 30 option from the View Battle Videos menu.
Changing Your Profile Information
As mentioned several times above, nearly everything you do with the Vs. Recorder has your trainer profile attached to it.
This profile is mostly used for fun and contains no sensitive information.
That said, you can change most of the info displayed on your profile whenever you want. This is generally done by speaking with certain NPCs in the Global Terminal's Blue Room (first floor).
Favorite Pokémon
Your "favorite Pokémon" is the one that is presented to the right of your avatar on your profile.
You can change it by talking to the girl at the northern wall of the Blue Room with the preferred Pokémon in your party's first slot.
Trainer's Quote
To change your quote, speak to the man directly northeast of the Blue Room's front desk and select Yes.
Press Left or Right to change the quote's structure. Then select new words and phrases to fill in any blanks.
Location
Your location is locked in when you first register it. But if you haven't registered it, you can do so by interacting with the Geonet—the giant spinning Earth model in the middle of the Blue Room.
When the Geonet boots up, select Register.
Then scroll down the list to select your home country and region.
Remember that this selection will be permanently locked, and you'll need to overwrite your save file if you want to register a different location.
Birth Month
Your Birth Month is the only aspect of the trainer profile that isn't changed in-game, but in your DS console. You can access this in the System Settings.
Guide Navigation