9 Tips & Tricks for Beginners Starting Rune Factory 4
Rune Factory 4 kicks the game off with a tutorial, but there are a lot of helpful tips that the game doesn't tell you about.
Here are 9 essential tips and tricks that beginners need to know when get start a new game in Rune Factory 4.
1. Work on your relationships with the townspeople
Spend time talking or giving gifts to the people around the town. Eliza will eventually give you a request that'll require you to have at least 1 level of friendship with everyone, except Barrett and Raven.
Of course, there are a lot of benefits to raising your friendship levels with your neighbors.
One benefit is that you'll be able to invite them to form a party of 3 with you and join you on your adventures.
If you want a suggestion on who to focus on, befriend Clorica and Kiel first. They'll throw a dish at you if you leave town with them without having eaten anything yet that day. That's free food daily for you to eat or sell.
2. Upgrade your hoe with a magnifying glass
An equipped magnifying glass allows you to check on the different stats of soil while it's highlighted.
If you use the Forge and upgrade any tool with a magnifying glass, you'll be able to equip that tool and read soil stats at the same time.
The best tool to upgrade with the magnifying glass is a hoe. It's convenient for when you want to check a plot before planting your next crop.
3. Focus on increasing your forging, crafting, and cooking skill levels
In getting sturdier against strong enemies, your equipment matters a lot more than your character's level. That's why you should be focusing on your forging and crafting skills.
As you improve these skills, you'll be able to unlock more recipes by eating weapon and accessory breads.
Then, you'll be able to make better equipment to aid you on your journey.
Don't sleep on your cooking skills either.
If you raise this skill, you'll be able to make more complicated dishes. This is a good money-making strategy since high-level dishes can sell for a fortune.
4. Do your best to get to bed before 1 AM
If you sleep before 6 AM in Rune Factory 4, you can avoid getting sick. Although you should try to sleep before 1 AM though!
Sleeping before 1 AM will increase your sleeping skill.
The sleep skill affects your HP, VIT, and STR. These are all important for survival in the different dungeons in the game.
5. Keep doing Eliza's requests
Completing the requests Eliza has for you will always merit you a reward.
Sometimes the reward will be an item, and sometimes it'll be an unlocked feature in the game.
Diligently working on requests will get you more variety in seeds at the stores, additional orders in the Order Symbol, and so much more!
Another reason you'll want to complete Eliza's requests is that you'll be able to unlock New Game+ after clearing all the non-repeating quests.
6. Tame monsters that give different produce
If you tame monsters that produce different ingredients, you'll save a lot of time and effort from farming these items on the battlefield.
Having them in your monster barn means that you can stock up on these items and have them ready for when you're cooking or crafting.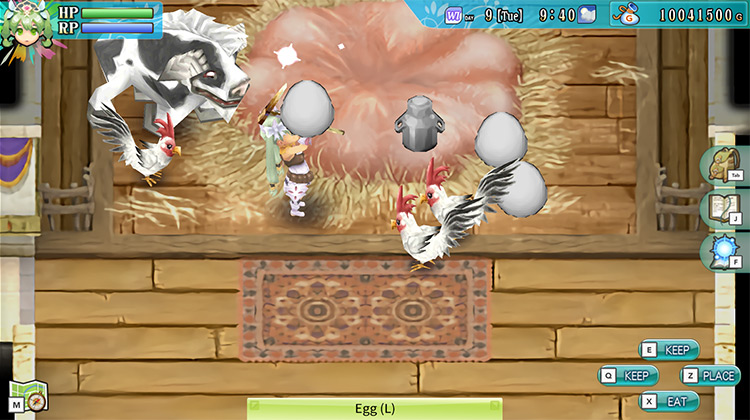 If you want to know which tamed monsters to prioritize then you can check out our guide here.
7. Practice teleporting away if you're about to be killed in battle
A great spell available to you at the very start of the game is the ability to teleport back home from anywhere on the map.
This is useful for getting you out of sticky situations. If you think you're engaged in a battle you can't win, use your teleport spell to get out of there quickly.
But what's the reason why it's better for you to escape a dangerous battle?
It's because of the sizable medical bill waiting for you if you faint and wake up in the clinic.
8. Make sure you're improving the quality of your seeds
Crops and seeds have quality levels that can improve as you work on caring for your farm.
As you increase the quality of a crop, it'll be worth more when sold.
A good method to use is to buy two seeds of each crop. One will be for growing the crop for harvesting, and the other will be for cutting with a sickle for it to drop its seeds.
Keep replanting the seed and cutting the plant with your best sickle until you are able to raise its level significantly.
Then you can sell the seed and buy it at that quality level from the store. This will ensure that you'll be getting higher-level crops with every harvest.
9. If you forget what you're doing, read your diary
If you find that you've gotten sidetracked and you've forgotten what you're supposed to do to make progress in the story, read your diary. You'll find this right next to your bed.
When you read your diary, your character will comment on what you need to do next!
This makes it easy to check where you're at in the storyline and help you keep progressing without feeling too lost.
Guide Navigation