Where To Get TM43 Detect in Pokémon Crystal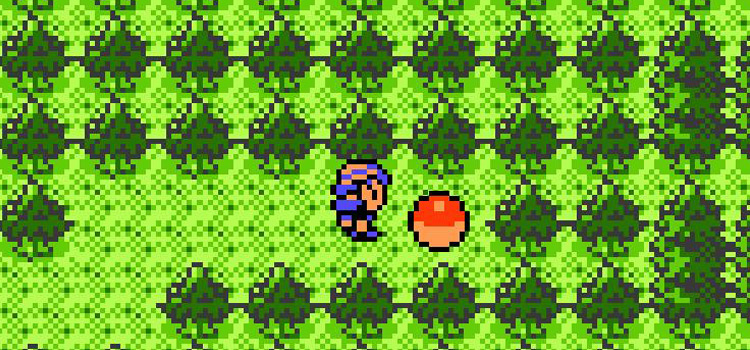 TM43 Detect
#
Location
Repeatable?
1
Lake of Rage. Found deep in the forest behind the lake, accessible from Route 43's west side.
No
2
Held item by Nidoran (male and female) when traded into Pokémon Crystal from Pokémon Red, Blue, or Yellow via Time Machine.
Yes
There are two ways to obtain TM43 Detect in Pokémon Crystal, one of which can be repeated:
Method #1: There is one copy of this TM in the forest behind the Lake of Rage, accessible from Route 43's west side. A Pokémon that knows Cut is necessary to reach it.
Method #2: Trade a Nidoran (male or female) from Pokémon Red, Blue, or Yellow into Pokémon Crystal by using the Time Machine.
You'll gain access to the Time Machine after visiting Ecruteak City's Pokémon Center for the first time.
Prerequisites
Before you can try out Method #2 listed above, you need to unlock the Time Machine.
You can do this by entering the Pokémon Center in Ecruteak City for the first time. There, Bill will tell you that he just finished setting up a Time Machine to trade with someone in the past.
What he means by "the past" is the original Pokémon Red, Blue, and Yellow.
The next day after this encounter, the Time Machine should be available at any Pokémon Center in Johto or Kanto.
Method #1: Find the TM in the Forest Behind the Lake of Rage
Step 1: Exit Mahogany Town through the northern gate.
Step 2: Follow the left path through the tall grass until you see a river to the left.
Step 3: Use Surf to follow the river northward until reaching land again.
Step 4: Go left behind the NPC in the green shirt and follow the road northward.
You'll eventually reach a small tree blocking your path.
Step 5: Use Cut to traverse the forest, starting with the small tree in front of you.
Cut it down and turn right immediately, avoiding the trainer to the left.
This leads to another small tree. Cut it and keep going.
Just one tree left to go.
Ignore the first tree you see, and instead keep going east until you reach another tree. Cut through it and stick to the right as you continue.
Step 6: You'll find TM43 Detect on the ground at the end of this road.
Method #2: Trade a Nidoran from Pokémon R/B/Y into Pokémon Crystal
Step 1: Connect your Pokémon Crystal game to a Pokémon R/B/Y game where you have unlocked the Time Capsule and have a Nidoran in your party.
Here's how that works, depending on what platform you're playing on:
Game Boy / GBC: Connect both handhelds with a Nintendo Game Link Cable.
Game Boy Advance: Connect both handhelds with a GBA Link Cable.
3DS: Virtual Console versions of Pokémon R/B/Y and Pokémon G/S/C can link up over the 3DS's local wireless connection.
Note: Some emulator software allows you to do this as well. Well-known GBC/GBA emulator mGBA offers a built-in multiplayer option that makes it easy.
Step 2: Go into a Pokémon Center and climb the stairs to the second floor to find the Time Capsule.
In Crystal it's on the rightmost end of the room.
In Pokémon R/B/Y you just speak with the regular trade center NPC on the first floor.
Step 3: Talk to the trade NPCs simultaneously in both games. Save your game when prompted, then choose "Trading Center" when given the option.
Note: Make sure you don't have any Gen II Pokémon, Moves, or Items in your Pokémon Crystal party, or you'll be turned away.
Step 4: Face the table in the middle of the room and press A (in both games) to start the trade.
Step 5: Choose the Pokémon you'll trade in both games and watch the cutscene.
Step 6: Leave the Time Capsule and check your Pokémon party. The Nidoran should be holding the Detect TM.
TM43 Detect Details + Uses
Detect Move Details
Type
Fighting
Category
Status
Effect
Heals the user for 50% of the damage dealt.
Accuracy
100%
PP
5
Detect is one of the few defensive moves available in Pokémon Crystal. It's used to protect your Pokémon from any enemy move damage or effects during that turn.
It's amazing for stalling your opponent while something else, such as Poison, whittles down their health turn by turn.
You can also use it to dodge predictable moves like Solar Beam, which needs one turn to charge up.
Note: Status ailments and weather effects like those caused by Sandstorm will still damage your Pokémon.
Keep in mind that Detect's Accuracy drops by about ⅓ each time you use the move in quick succession. Using Endure has the same effect.
A wide variety of Pokémon can learn Detect and use it to great effect, including every Fighting-type critter in the game. Here are some ideas to teach this TM to:
| Pokémon | Type | Location |
| --- | --- | --- |
| Eevee | Normal | Receive from Bill in Goldenrod City. |
| Hitmonlee | Fighting | Starter (Chikorita line). |
| Poliwrath | Water/Fighting | Evolve Poliwhirl. |
| Magmar | Fire | Mt. Silver (Morning, Day). |
Guide Navigation