SoS: FoMT Marie Gifts Guide (Friendship + Marriage)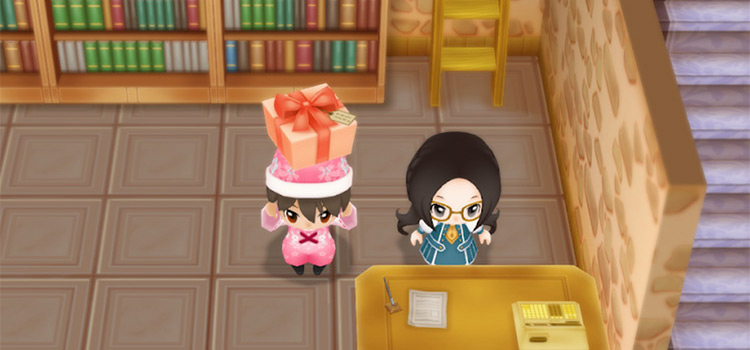 Marie is the librarian of Mineral Town. She's also Anna and Basil's daughter, and loves it when people come to visit the library to read.
Her birthday is on Winter 20th. If you set your farmer's birthday on the same day, her birthday will be on Winter 23rd instead.
This guide will tell you all you need to know about maintaining a relationship with Marie.
Schedule
Marie is often in the Library 24/7 except for sunny Mondays where she takes the day off to spend at Mother's Lake. Otherwise you can typically find her chilling at Basil's house.
| Day | Location |
| --- | --- |
| Monday | Mother's Lake, Basil's House |
| Monday (Rainy or Snowy) | Basil's House, General Store |
| Tuesday to Sunday | Basil's House, Library |
Gift Preferences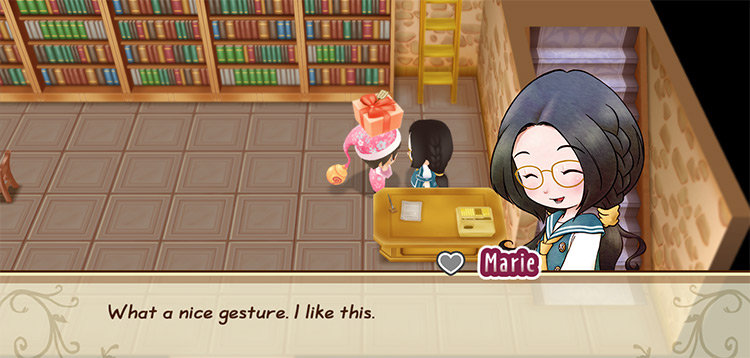 A lot of Marie's favorite gifts are recipes. You can get most of the recipes for Marie's favorite gifts from Lou after completing 2-6 recipe prerequisites.
Some other easy loved gifts are certain Wild Grasses (black, blue, red, and white), Bamboo Shoots, and Wild Grapes.
Type of Gift
Items
Favorites
Dishes: Relax Tea, Vegetable Juice
Loves
Forage: Bamboo Shoots, Black Grass, Blue Grass, Matsutake, Poison Mushroom, Red Grass, White Grass, Wild Grapes
Dishes: Chestnut Rice, Chocolate, Chocolate Cookies, Elli Leaves, Grape Juice, Mont Blanc, Raisin Bread, Roasted Chestnut
Miscellaneous: Caffeine, Dango Flour, Diamond, Letter in a Bottle, Perfume, Pink Diamond, Relax Tea Leaves, Super Caffeine, Tomatosetta Stone
Likes
Forage: Apple, Chestnut, Honey, Indigo Grass, Orange, Orange Grass, Purple Grass, Yellow Grass
Crops: Bell Pepper, Chili Pepper, Pineapple, Pumpkin, Spinach, Tomato
Animal Products: Cheese, Golden Egg, Mayonnaise, Wool (all types), Yarn
Dishes: Apple Pie, Bamboo Rice, Baugna Cauda, Candied Peels, Carbonara, Cheese Fondue, Cheese Risotto, Cheese Souffle, Cheesecake, Matsutake Rice, Moon Dumpling, Mushroom Gratin, Mushroom Rice, Orange Pastries, Orangette, Palbochae, Pepper Steak, Pineapple Juice, Pumpkin Potage, Roasted Apple, Spicy Margherita Pizza, Spicy Pepper Steak, Spicy Ramen, Spicy Sandwich, Spicy Vegetable Stir Fry, Strawberry Milk (dish)
Miscellaneous: AEPFE Apple, Amethyst, Aquamarine, Bracelet, Broach, Dress, Earrings, Emerald, Face Mask, Garnet, HMSGB Apple, Necklace, Pet Treat, Ruby, Sapphire, Skin Lotion, SUGDW Apple, Sunblock, Topaz
Dislikes
Animal Products: Butter
Dishes: Curry Bread, Curry Rice, Fried Rice, Okonomiyaki
Miscellaneous: Fodder, Lumber, Scrap Ore, Stone
Hates
Miscellaneous: Ancient Fossil, Branch, Gold Lumber, Pirate Treasure, Rock
Trash: Empty Can, Fish Bones, Rubber Boot, Weed
Best Gifts for Each Season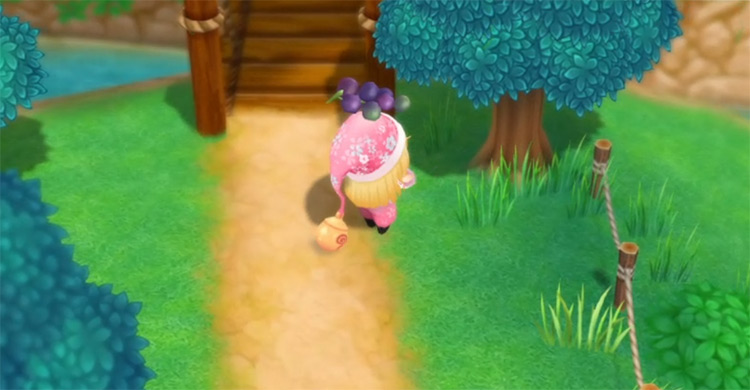 | Season | Item | Where to Find It |
| --- | --- | --- |
| Year-round | Caffeine | Buy from the Clinic for 1,000 G |
| Spring | Bamboo Shoots | Forage around Mother's Hill in the Spring |
| Summer | Wild Grape Water | Harvest once a day from your farm's Grape tree, or forage around Mother's Hill and the Secret Forest in the Summer |
| Autumn | Matsutake | Forage around the hidden area in Mother's Hill or Carter's secret room during Autumn |
| Winter | White Grass | Forage around the Forest or Carter's secret room in the Winter |
Heart Events
As you continue to raise your friendship points and heart level with Marie, you can unlock heart events that allow you to get to know her better.
During the cutscene, your farmer will have to respond with one dialogue option. Choosing the correct response will give you 3,000 LP with Marie, otherwise you will lose -2,000 LP.
Below is a list of each heart event and the requirements needed to trigger them.
SCROLL
Heart Event
Love Points Required
Location
Requirements
Correct Dialogue Option
Gray (1)
0 LP
Library

It is between 10:00 AM and 4:00 PM on any day except Monday
It is not stormy

"Is something troubling you?"
Gray (2)
5,000 LP
Library

It is between 10:00 AM and 4:00 PM on a Sunday, Tuesday, Thursday, or Saturday
It is not stormy

"Consider that book bound! Er, found!"
Purple
10,000 LP
Mother's Hill

It is between 12:00 PM and 5:00 PM on a Monday
The weather is Sunny
The farmer has at least one space available in the Big Bag

"Yeah. Books are love. Books are life."
Blue
20,000 LP
Basil's House

It is between 11:40 AM and 1:00 PM on a Monday
It is not stormy
Marie, Basil, and Anna are all inside Basil's House
The farmer has talked to Basil and Anna at least once before

"What about…farm work?"
Green (Confession)
30,000 LP
Any location

The player is holding a Preserved Flower
It is not stormy

–
Yellow
40,000 LP
Farm

It is between 10:00 AM and 4:00 PM on a Monday
The weather is Sunny

"Marie's my book advisor today."
Orange
50,000 LP
Library

It is between 12:00 PM and 5:00 PM on any day except Monday
The weather is Sunny

"Exciting AND inspiring!"
Red (Marriage)
60,000 LP
Any location

The player is holding a Blue Feather
It is not stormy
The farmhouse bed has been upgraded to the Big Bed

–
Remember that you can only view a heart event once you've successfully seen all the previous ones, so make sure you've checked every single one on the list!
Marriage/Friendship Perks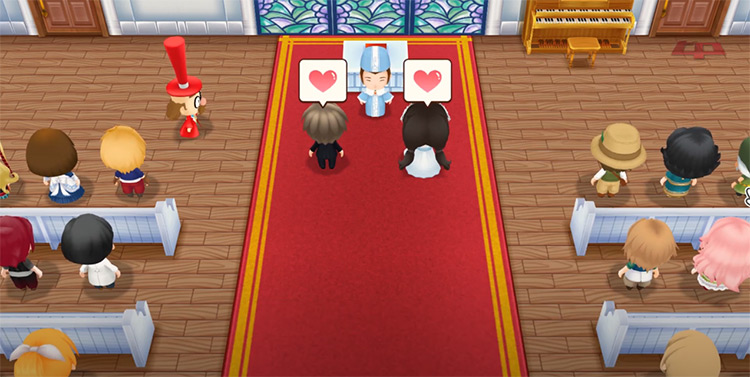 Marie is a marriage candidate, and befriending Marie will allow you to gain deeper insight into her life as a book lover and aspiring novelist.
You can also earn 2,500 bonus LP with Marie if you visit the second floor of the Library. The bonus points are earned every 30 visits until you visit a total of 150 times.
Guide Navigation