Rock Tunnel: Pokémon FRLG Walkthrough Part 7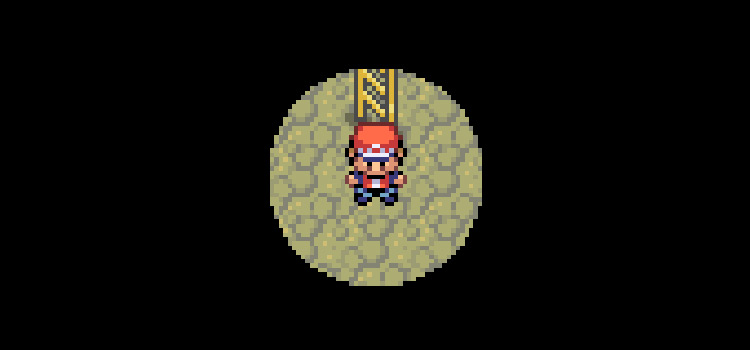 Quick Guide
Travel through Diglett's Cave (east of Vermilion City) and travel south of the cave until you reach a yellow brick building
Enter the building and get HM05 Flash from Professor Oak's Aide
Travel back to Vermilion City and then take the northern Underground Path leading to Cerulean City
Walk east from Cerulean City and follow Route 9 to Route 10, then head south from Route 10 to reach Rock Tunnel
Make your way through Rock Tunnel and then head south to Lavender Town
Head west from Lavender Town onto Route 8 and follow the Route until you reach the Underground Path
Take the Underground Path and exit onto Route 7, then head west to Celadon City
Diglett's Cave & HM05 Flash
Once you're done in Vermilion City, your next task is to get through Rock Tunnel. This is one of the most complex caves we've been to yet. What makes it so complex is the fact that it's pitch black inside the cave, and we won't be able to see much by default.
But at this point we can pick up HM05 Flash, which allows us to illuminate dark caves like Rock Tunnel.
Here's how to get the HM:
Head east from Vermilion City, onto Route 11. You'll come across a small cave known as Diglett's Cave.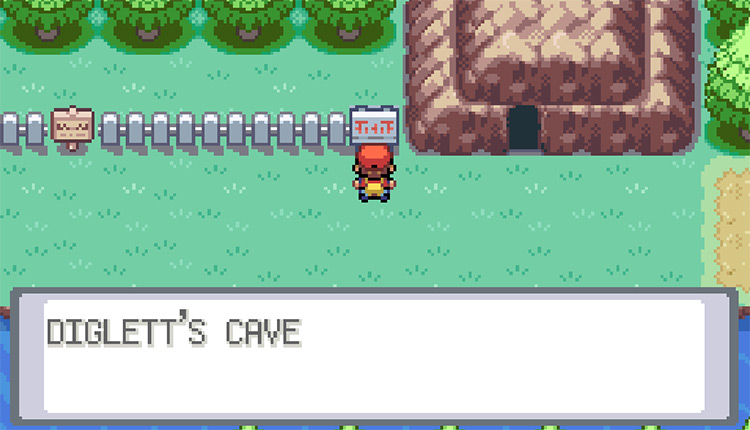 The cave is very short and easy to navigate because it's just one long thin tunnel.
Just walk north through the winding corridor and it will take you out around Viridian City.
After you exit Diglett's Cave, keep walking south from there. You'll see a blue house in front of a fence with a cuttable tree in the middle.
Cut the tree down and keep walking south until you come across a yellow-bricked building.
Inside of this building, you'll see another one of Oak's Aides. He's the NPC wearing the lab coat.
If you talk to him, he'll check to see if you've caught 10 different species of Pokémon.
If you have, then he'll reward you with HM05 Flash.
We can use this to easily get through Rock Tunnel.
Note: Flash is not a super great move in battle, so it may be worth teaching this HM to a Pokémon you don't plan to use long-term.
After you receive Flash, turn around and head back through Diglett's Cave and all the way back to Vermilion City. This seems roundabout, but it's genuinely the fastest way to reach Rock Tunnel.
Rock Tunnel Guide
Getting To Rock Tunnel
Our goal of getting through Rock Tunnel is to make our way to creepy ol' Lavender Town.
Once you go through Diglett's Cave back to Vermilion City and head onto Route 11, you'll actually want to make you way back to Cerulean City. Here's why:
Theoretically, we could cross east through Route 11 and follow the docks until we reach Lavender Town.
Except there's one little problem.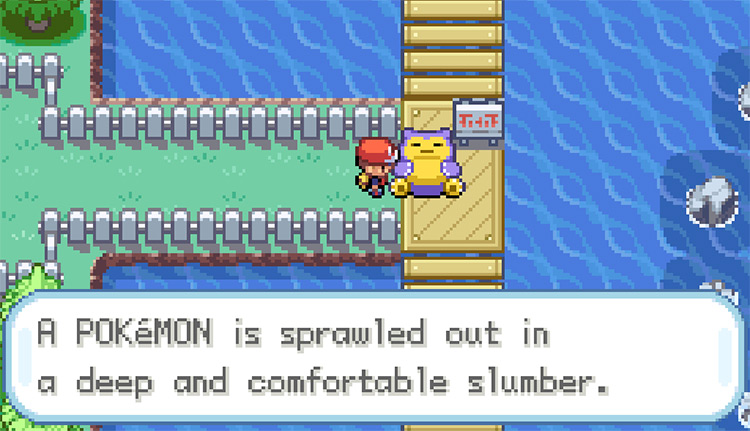 We can't get by this sleeping Snorlax right now, so we have to find a different way to Lavender.
So once you're back in Vermilion City, go north to reach the Underground Path.
Follow the path all the way back to Cerulean City.
Tip: I recommend hitting the mart here and stocking up on Super Potions/Potions, Poké Balls, and lots of Repels (Rock Tunnel will have a lot of wild Pokémon which can get annoying).
You could also use your Bike Voucher to get the Bicycle at the bike shop, since it'll help you cruise through the overworld much faster.
After you're stocked up, head east from Cerulean City.
You'll come across a tree which you can now easily chop down with HM01 Cut.
After you chop down the tree, you can walk east on Route 9 until you hit Route 10. There's not much to Route 10. It just has a patch of grass with some neat Pokémon like Sandshrew and Voltorb.
Below the patch of grass is a Pokémon Center and a cave. This cave is Rock Tunnel, and it's our ticket to Lavender Town.
Before you head into Rock Tunnel, make sure to heal your Pokémon at the Pokémon Center on Route 10. Even if they're full HP, you'll want to heal at this Center to create a checkpoint — just in case you white out inside the cave.
Once you're prepared, walk inside the cave.
Rock Tunnel Walkthrough (Step-by-Step)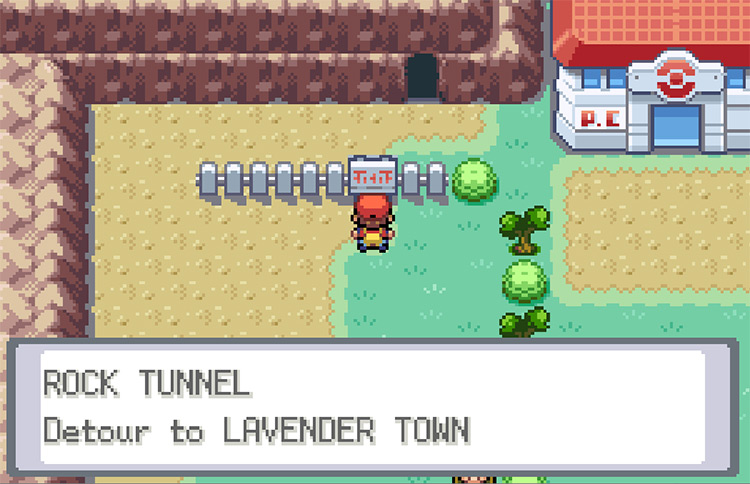 The first thing you'll notice inside Rock Tunnel is that you can't see anything. This is where Flash can come in handy.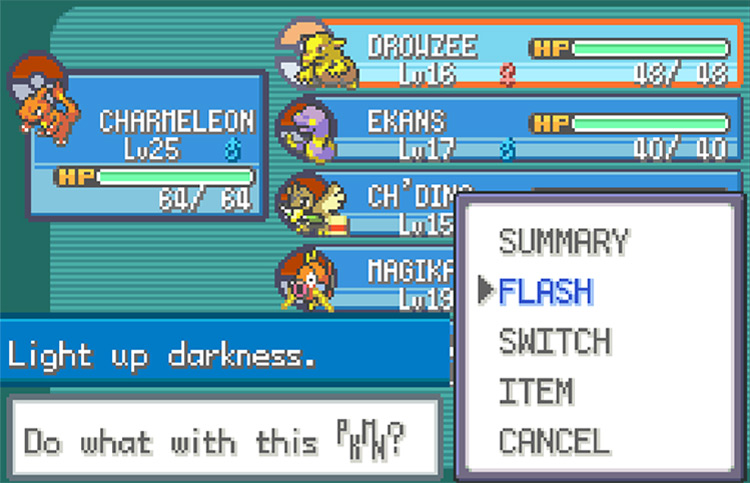 But if you don't want to use Flash then no worries! We can still get you through Rock Tunnel with a step-by-step guide:
Step 1: Once you enter Rock Tunnel, walk south from the starting ladder.
Then continue south-east (battling the man in glasses standing in the corridor).
Step 2: Walk east, following the corridor around the corner & then follow the path up to the north.
Step 3: Walk north until you reach the end of the corridor and see a ladder going down.
Take this ladder down to the 2nd basement floor.
Step 4: From the ladder, walk south and then turn west through a corridor.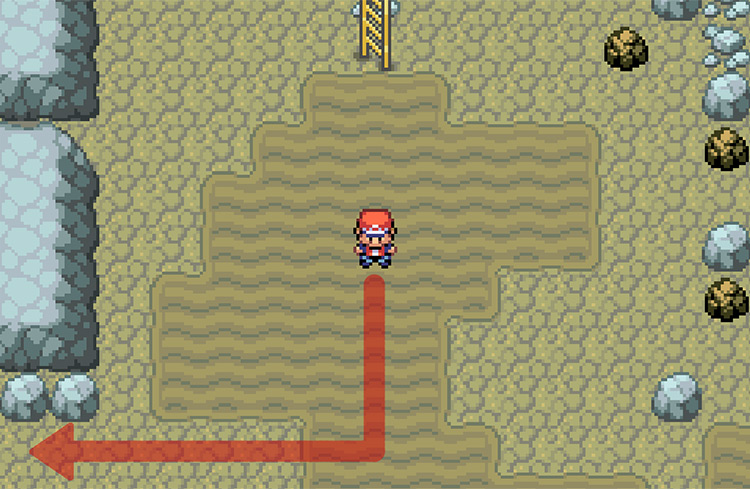 Step 5: Walk through this bottom corridor until you see an opening in the north wall (where the NPC in green is standing.)
Walk through this opening and battle the NPC.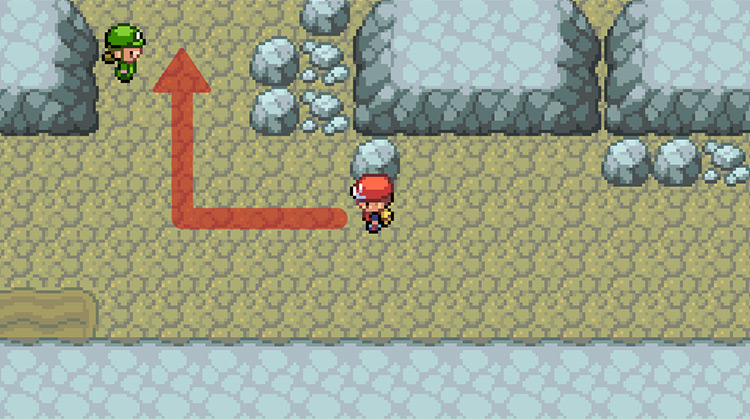 Step 6: Follow the winding path over to the right, walking past the NPC with glasses, until you reach an opening.
Then walk north-west & go past the hiker standing at the corner of the rock wall.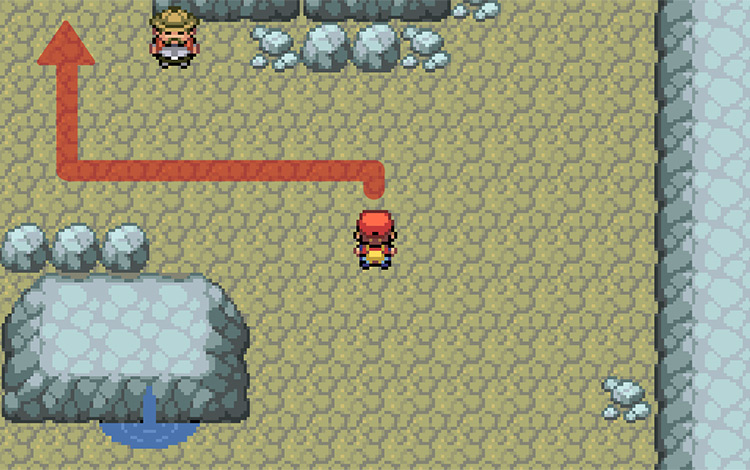 Step 7: Continue north past the hiker until you see a ladder going up.
Then take that ladder up, going back to the first floor of Rock Tunnel.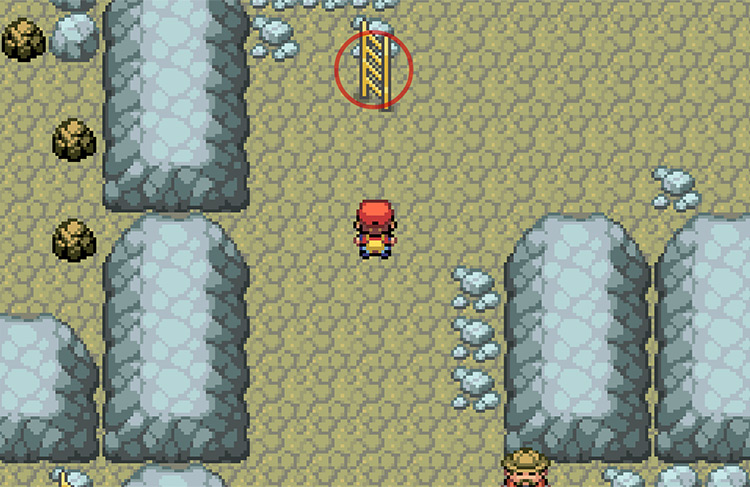 Step 8: From here, walk south from the ladder and take either path.
It's faster to take the right pathway because we're heading to a ladder on the right-hand side – but you can walk down & go around the big central rock if you want to avoid battling the Hiker.
Step 9: Either way, walk towards the east and get around the rock-wall corner, continuing east the whole way.
Step 10: After rounding the corner, take the ladder heading down back to the 2nd basement floor.
Step 11: Walk west from the ladder and then look for the small opening in the western wall (where the Picnicker in green is standing).
Step 12: Walk past the Picknicker in green, and then walk north-west past the hiker & keep heading towards the northwestern corner of this floor.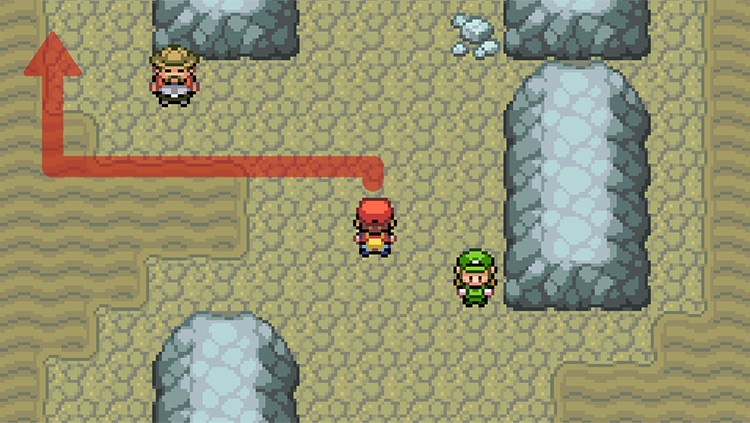 Step 13: Continue north through the narrow corridor going up as far as possible.
There is a ladder at the end of this corridor that goes up to the first floor of Rock Tunnel. Take the ladder.
Step 14: After taking the ladder back up to floor one, walk south as far as possible, battling any trainers along the way.
Then once you've gone down as far south as possible, follow the path over to the west (pictured below).
From there, continue west past the Picnicker in green which you'll also have to battle.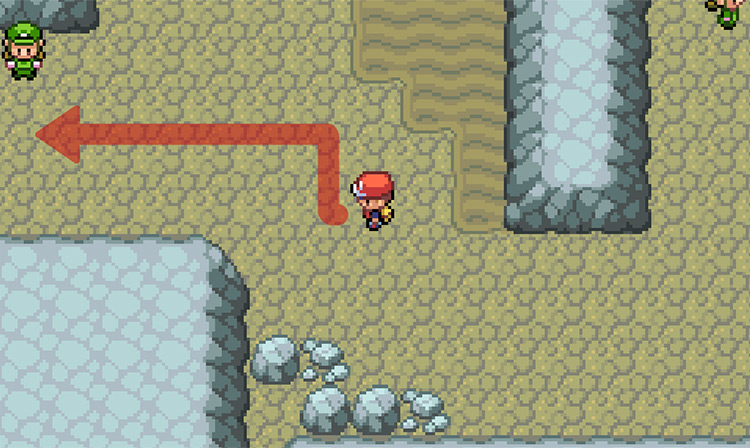 Step 15: After walking past the Picnicker, round the corner and head south past the sign.
Step 16: You'll quickly see the exit to Rock Tunnel just south of the wooden signpost.
Head out this exit and you'll be taken onto the lower portion of Route 10. Just keep following this route down going south and you'll soon reach Lavender Town.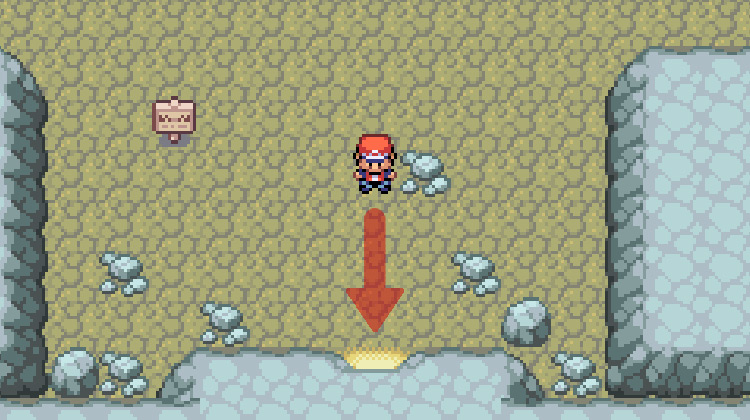 Of course, there are many extra trainers to fight and items to find in Rock Tunnel if you feel like doing some exploring.
But you can follow my quick directions above to beeline it through the cave.
Leaving Rock Tunnel to Reach Lavender Town
Either way, Rock Tunnel will exit onto the lower portion of Route 10.
There are still a few trainers right outside of Rock Tunnel looking for a fight, but you can dodge them if your Pokémon are too low on HP to battle.
Just continue south on Route 10 until you reach Lavender Town.
Lavender Town To Celadon City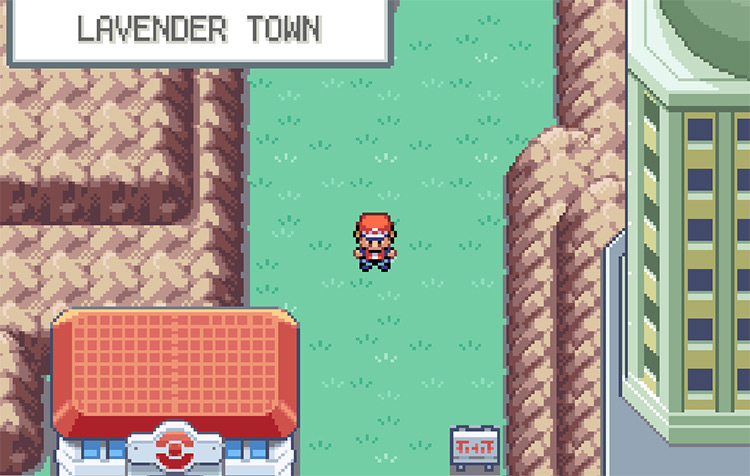 There's not much for us to do in Lavender Town right now.
Mr. Fuji has gone missing, and he was last seen in the Pokémon Tower. But there's not much we can do about that (yet).
So heal up at the Pokémon Center and get ready to make your way to Celadon City.
Here's how to get there:
Head west from Lavender Town onto Route 8. Keep walking west and fight all the trainers necessary. Eventually you'll reach the end of the Route, and you'll see two buildings.
The one on the left will cross into Saffron City. Unfortunately, the guard won't let us pass through yet (we need the Tea for that).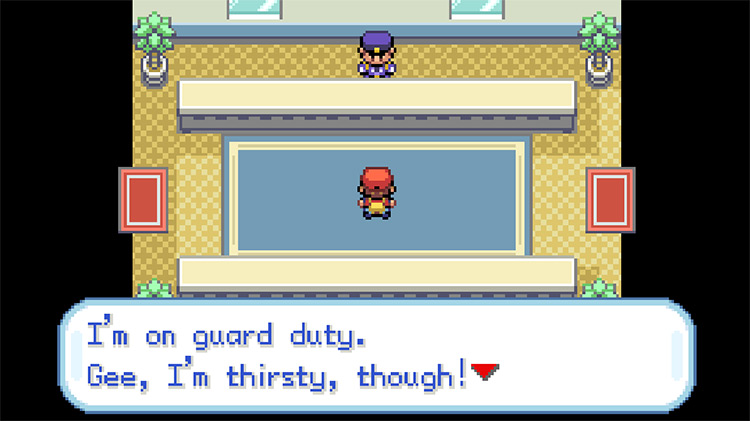 So instead we need to take the northern building at the very end of Route 8.
This is another handy dandy Underground Path that leads to Celadon City.
This Underground Path is just like the previous one we took in Cerulean.
So you just walk in the building, walk down stairs, run for a little bit, then walk upstairs.
You'll exit onto Route 7, located just east of Celadon City.
Guide Navigation