Where To Get TM18 Rain Dance in Pokémon FRLG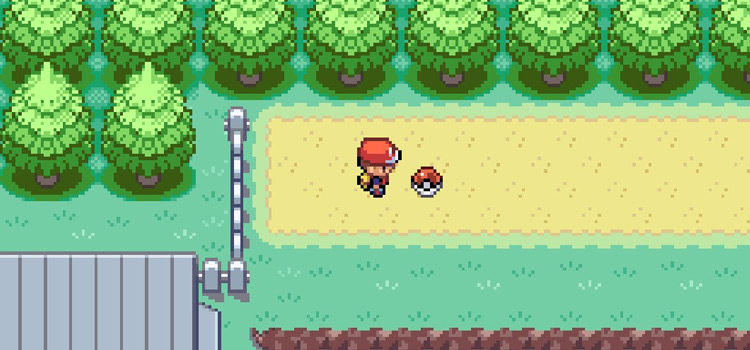 TM18 Rain Dance
#
Location
Repeatable?
1
Route 15 – Above the ledge just before the gate leading to Fuchsia City
No
TM18 Rain Dance can be found on Route 15. It's sitting on the ground above a ledge just before the gate to Fuchsia City.
You an first reach Route 15 for the first time by heading south of Lavender Town, or by heading east of Fuchsia City.
But if you take the route from Lavender Town then you'll need the Poké Flute to move the resting Snorlax blocking Route 12.
We'll teach you how to get the TM from Lavender Town since that's the earliest point in the story when you can get to it – but you'll be able to reach this area faster once you're in Fuchsia City.
TM18 Rain Dance Location (Step-by-Step)
Step 1: Head south from the Lavender Town Pokémon Center. But first make sure you have at least two things in your bag:
The Poké Flute
A Pokémon that can use HM01 Cut
Step 2: Continue south through the city and head for the southern exit.
Step 3: This path south leads to a pier. Continue walking south across the pier.
Step 4: Head through the guard house ahead to reach Route 12.
Step 5: Once you exit the guard house just keep going south on the docks.
Step 6: Keep south, passing by the fisherman NPC.
Step 7: If you keep moving south then you should pass by two more fishermen.
Step 8: Just ahead you'll spot a grass square. Continue south past the grassy square.
Just past the grass you'll see another fisherman – but wrap around the pier and keep going past him as well.
Step 9: The pier ahead forks in two directions – east and south.
Continue on the path going south.
Step 10: Keep south ahead – if you run into a Snorlax blocking your path then you'll need to use the Poké Flute to wake it up and clear the way.
Otherwise if you've already battled this Snorlax then you should be able to go right on through.
Step 11: Ahead to the south is a small house where you can get the Super Rod.
But for the Rain Dance TM just keep going south past the house.
Step 12: Keep walking past the trainer behind the cuttable tree.
Step 13: If you keep going down then you should also pass a fisherman and another cuttable tree – just keep going south past both of them.
Step 14: Go as far down as you can until you see the pier turning to the west. At that point just follow the pier west.
Step 15: The pier will finally end to the west and you'll be back on grass.
This next area has some trainers in a maze made of a white picket fence – here's how to move through the maze and reach the other side:
Step 16: The end of the maze opens up to the south.
Once you're here, just head south down the dirt path.
Step 17: Once the line of trees end next to the dirt path, turn left and walk past them.
Step 18: Up ahead is a cuttable tree. Use HM01 Cut to clear it and walk into the new opening.
This will lead you onto Route 15.
Step 19: Continue west on this path and go all the way to the far end (there are some trainers along the way).
At the end you'll find an item on the ground – this is your TM.
Step 20: Pick up TM18 Rain Dance at the very end of the path.
TM18 Rain Dance Details + Uses
Rain Dance Move Details
Type
Water
Category
Special
Power
–
Accuracy
–
PP
5
Here are some tips & key takeaways about Rain Dance and how it works:
Using TM18 Rain Dance creates rainy conditions. This weather event lasts 5 turns or until another type of weather move is used.
Rain Dance is typically used as a damage modifier. Water-type moves are boosted by 50% power, while Fire-type moves are decreased by 50%.
Some abilities benefit from rainy weather.

Pokémon with the Rain Dish ability will heal for 1/16th of their max HP each turn.
Pokémon with the Dry Skin ability heal for 1/8th of max HP each turn.
Pokémon with the Hydration ability will have status conditions cured at the end of each turn.
Pokémon with the Swift Swim ability will have their Speed doubled.
With all of that said, Rain Dance is one of the least popular weather moves in FireRed & LeafGreen.
It offers fewer benefits compared to other moves like Sunny Day, but it can still help increase the damage output of your favorite Water-type Pokémon if you really need the boost.
Rain Dance is actually a great move to use against Gym Leader Blaine on Cinnabar Island.
Blaine uses an all-Fire-type team, and Rain Dance can help cut the Power of their attacks by 50% – while also boosting the damage of your own super effective Water-type moves.
Guide Navigation